Valuing our People
Digital Horizons considers all employees as associates and partners with equality and respect and provides a safe, comfortable and motivating environment to work in.
Digital Horizons provides equal opportunities to everyone and does not ask for any private or personal information that may influence relationships and assessments. Employee engagement, appraisals, performance bonuses and increments are guided purely on merit, talent, work performance and initiative, objectively and fairly.
Merit, hard work, talent, commitment and contribution to Digital Horizons goals are our only consideration for opportunities, growth, development, work assignments, role and engagement with the organization.
Digital Horizons provides fair compensation which is aligned with the role and contribution of the employee, education, skills, work experience and industry levels prevailing in our regions. Digital Horizons employees get a fair market value that they can benchmark with their opportunities. Our employee retention comes from the fair and open structure and environment and the rewards framework that we have in place.
Outstanding employees are considered for Leadership Roles and Employee Stock Options and given other generous bonuses and perquisites.
Digital Horizons employees are encouraged to strive for world-class excellence. Digital Horizons employees have gone on to achieve great success in their careers and become wholesome professionals with strong capabilities, talent and confidence.
Digital Horizons employees get bonuses, incentives, encouragement and further opportunities, for good work, innovation and performance.
Digital Horizons strives and works hard to provide training, growth opportunities, learning, mentoring and skill development. People who join Digital Horizons get opportunities to build their skills and knowledge because of the work assigned to them, the guidance provided, the encouragement we give and freedom we allow to access learning and knowledge resources online and offline.
Digital Horizons has an open door policy for engagement and everyone is easily approachable and open for discussion. The internal collaboration platform that Digital Horizons uses gives every employee equal opportunity and access to contact and message anyone in the organization including Directors and senior members.
Digital Horizons has sponsored and sent several employees abroad at company cost all inclusive of Visa, Travel, Stay, Participation Expenses, Local Cash Expenses and Additional Allowances. Employees got a well deserved break and international exposure which helps them build their confidence. They also were encouraged to take out time to visit and see the cities they travel to and experience the lifestyle in these countries.
Employees who have been given opportunity to travel abroad in the recent past:
Ajay Soni (Barcelona, Paris 2016)
Anita Kachhi (Dubai 2013 / Barcelona 2014)
Anup Shinde (Barcelona, Madrid 2015)
Hansen Joseph(Dubai 2013)
Girish BS (Barcelona, Paris 2016)
Richard Gloster (Dubai 2013)
Saswata Banerjee (Barcelona, Madrid 2015)
Sushant Tiwari (Barcelona, Paris 2016)
In addition the following associates have also been sponsored by Digital Horizons for overseas visits.
Balaji CR (Dubai 2013 / Barcelona, Amsterdam 2014)
Raghuvir Samarth (Barcelona, Amsterdam 2014)
Digital Horizons endeavour is to enable employees to make full use of international trips and acquire global exposure and come back with new energy and ideas to raise the bar themselves. They have all spoken about and encouraged other team members with their experiences and shared personal learning insights on the high standards of excellence, design and presentation that they have seen at these international events.
Digital Horizons helps with all arrangements and guidance needed including passport and visa assistance, travel tips, detailed local arrangements and sight-seeing in the cities. Stay is arranged in comfortable hotels and well-furnished apartments so that employees can get a feel of local stay and living. Digital Horizons takes all efforts to arrange the smallest of details for these trips.
Digital Horizons is committed to help create a new and energized India that has the right skills and exposure to create world-class solutions and these visits to exhibitions, conferences and advanced countries are part of our commitment and initiative.
Digital Horizons employees work regular and structured hours Monday-Friday with flexibility during the period from 8am-10pm and are never pressurized to work more than necessary. Digital Horizons requests employees to work on Saturdays when there are urgent deadlines.
Employees sometimes combating personal issues, are encouraged to work from home and supported in times of personal crisis.
Complimentary lunch is provided in the office on Fridays and on Saturdays when employees come in to work. In case employees stay very late to meet deadlines snacks or dinner are arranged. Complimentary wholesome snacks are provided to all employees every evening. Meals and snacks are sourced from good vendors with our emphasis on quality and nutrition.
Employees have generous leave allowance and are easily granted leave for medical, travel, vacation and other reasons.
Every employee is treated with utmost respect and dignity. Employees are given total opportunity to discuss their problems and any areas where they need help and assistance. Digital Horizons has zero tolerance for any form of harassment. Digital Horizons is a safe, warm and friendly place that focusses on learning, development, excellence and quality with equal opportunities for all employees.
Digital Horizons Employees at Mobile World Congress 2015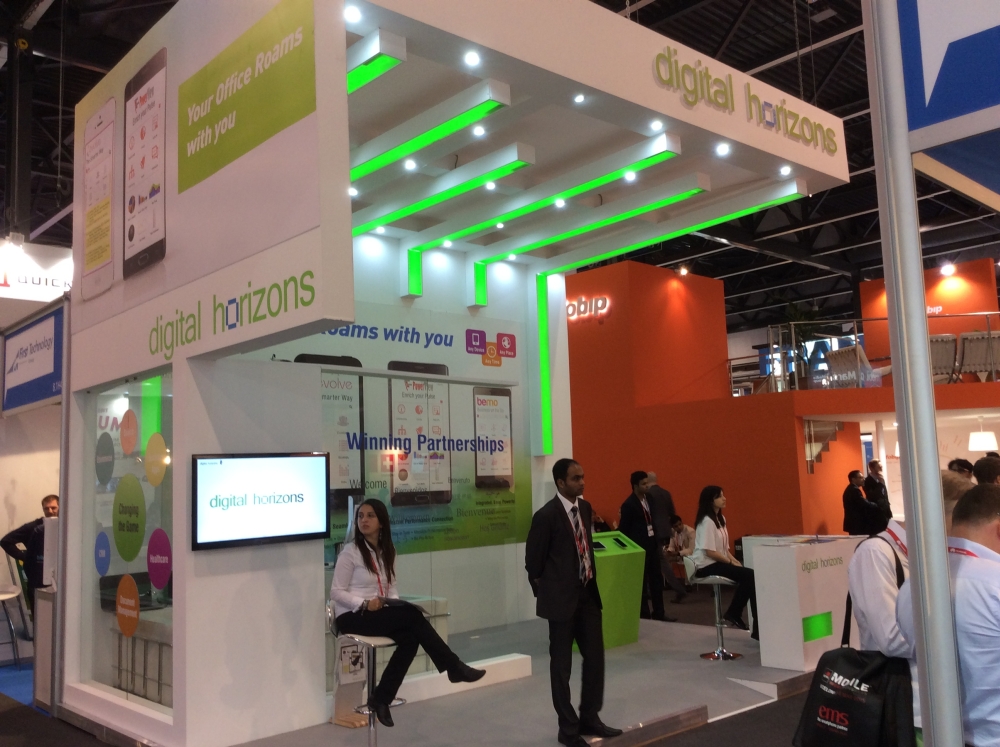 Anup Shinde and Saswata Banerjee with other team members at Digital Horizons Stand, Mobile World Congress 2015, Barcelona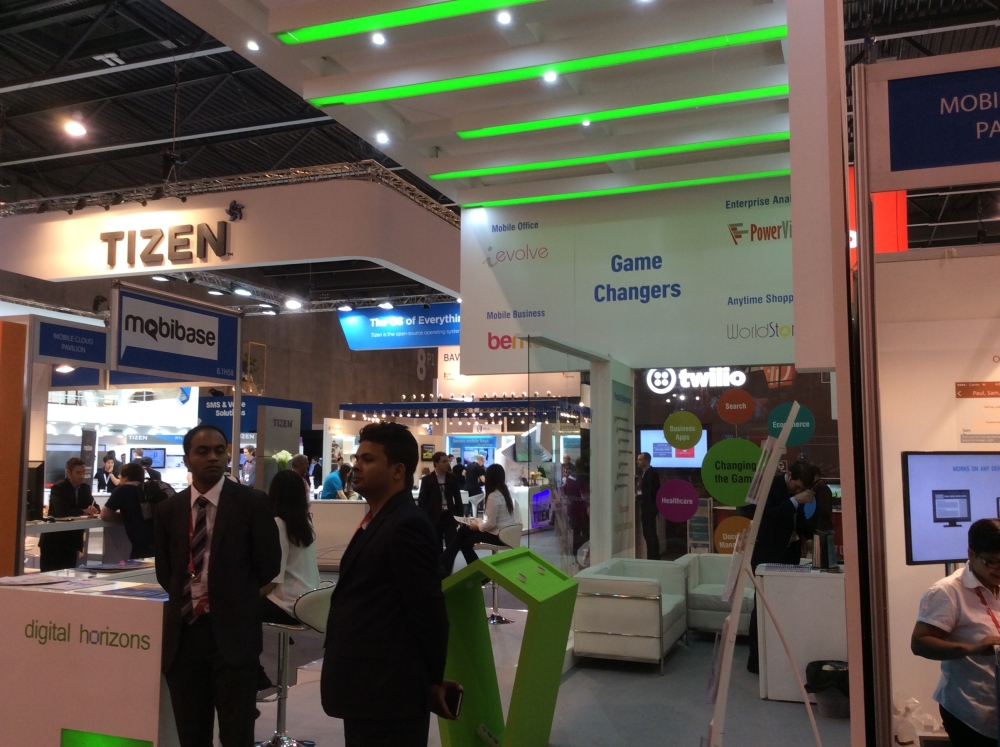 Digital Horizons is proud to sponsor Anup Shinde and Saswata Banerjee to Mobile World Congress 2015 to enable acquaintance with global developments in Mobile Technologies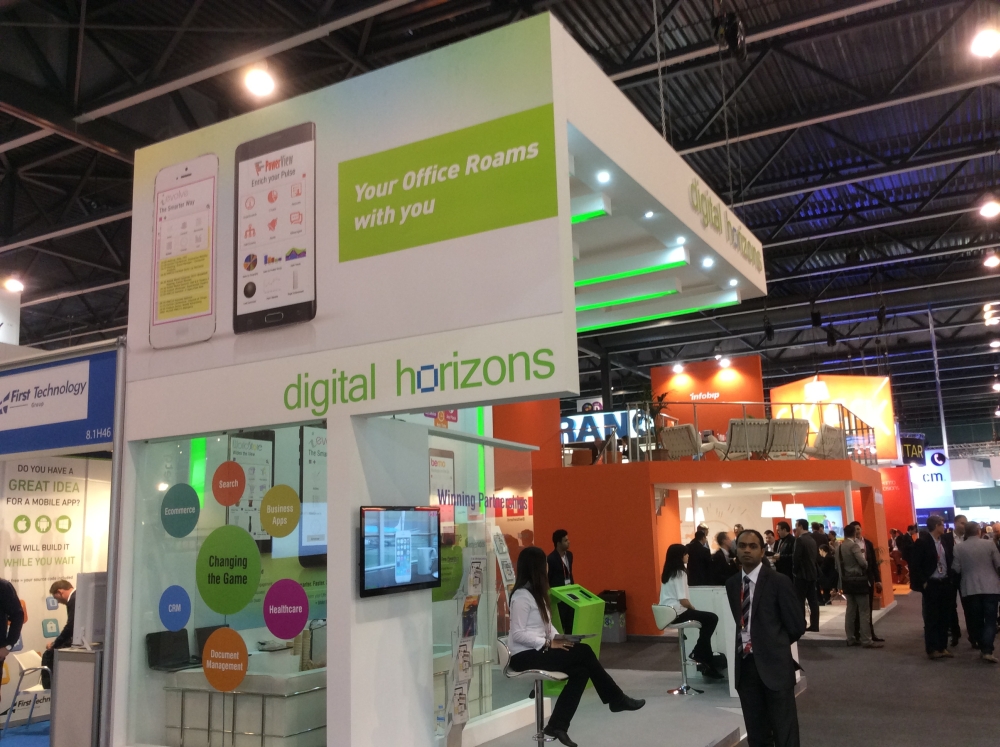 Anup Shinde and Saswata Banerjee interacted with CEOs and Senior Executives from reputed companies across the world at Mobile World Congress 2015
Digital Horizons Employees at Mobile World Congress 2016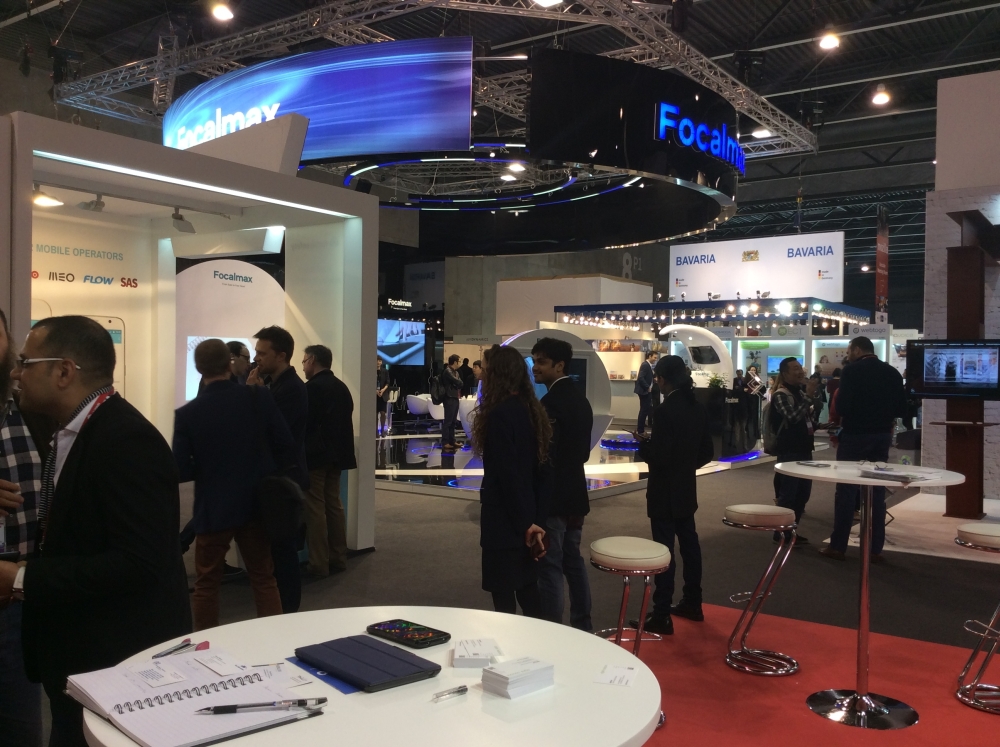 Ajay Soni, Girish BS and Sushant Tiwari at Digital Horizons Stand, Mobile World Congress 2016, Barcelona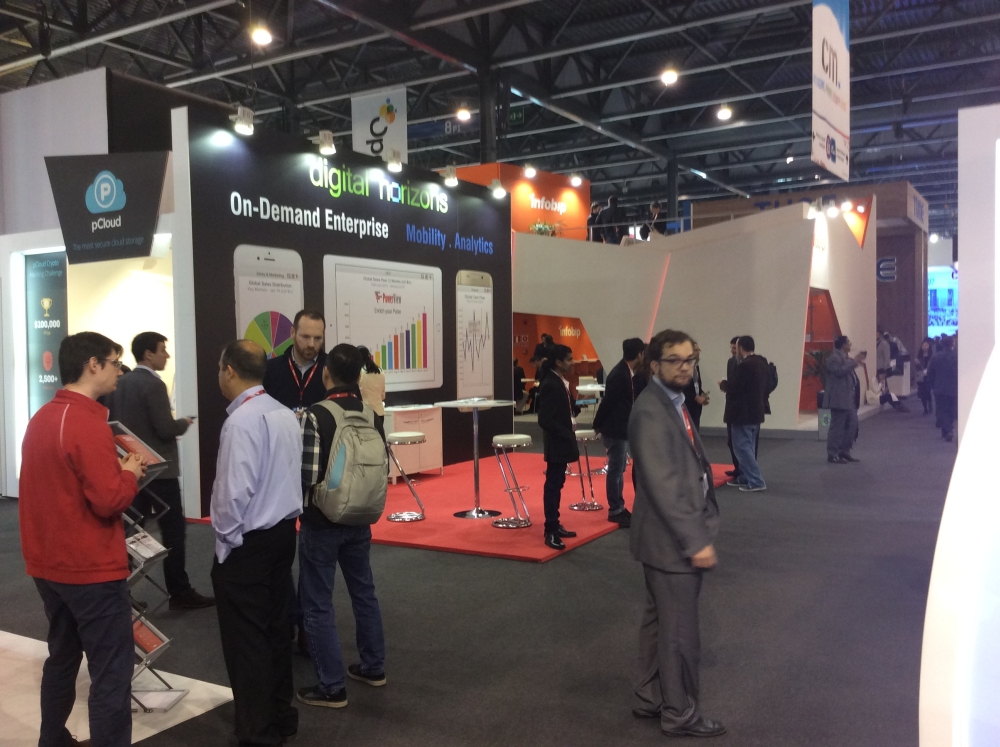 Sushant Tiwari, Ajay Soni and Girish BS were deputed to join Digital Horizons Team at Mobile World Congress 2016 so they could gain invaluable international exposure and learning in latest technologies and become aware of excellence needed to compete with global companies.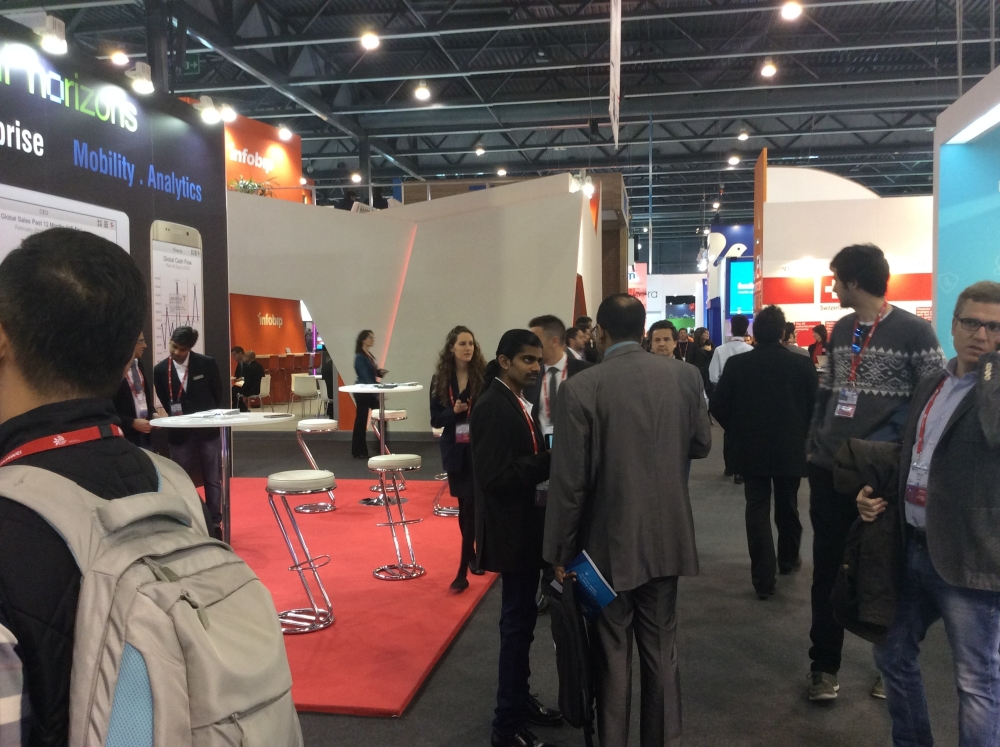 Digital Horizons is proud to sponsor Girish BS for his first visit abroad so he could gain invaluable first hand experience from interactions with customers from many countries at Mobile World Congress 2016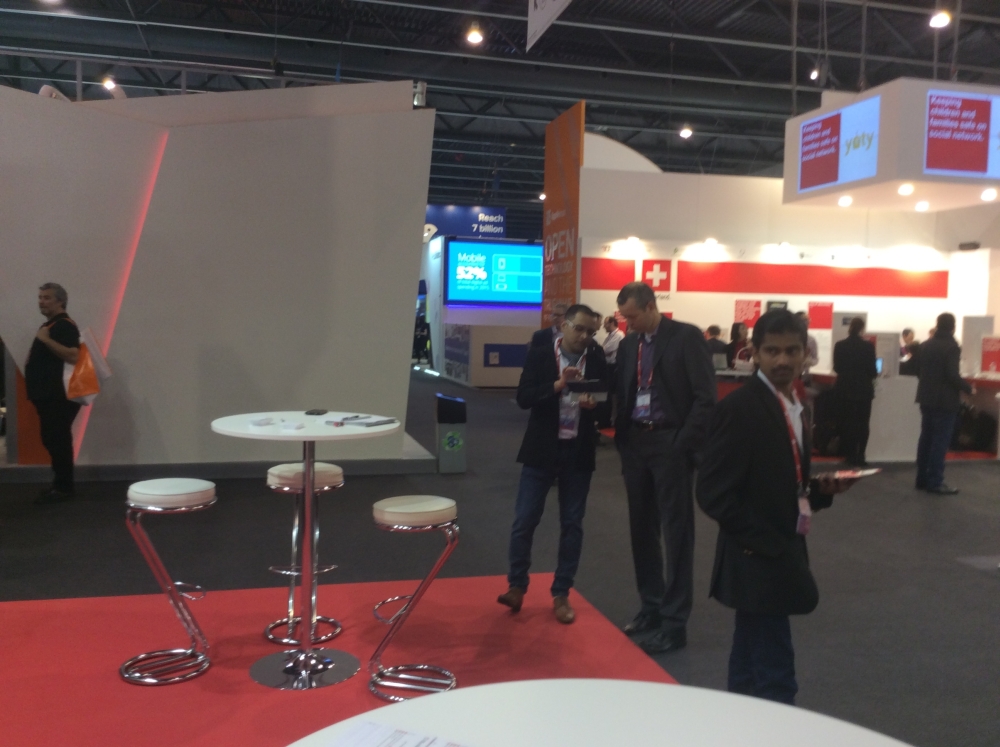 Ajay Soni honed his Marketing and Customer Servicing skills and had opportunity to meet and closely interact with European Customers at Mobile World Congress 2016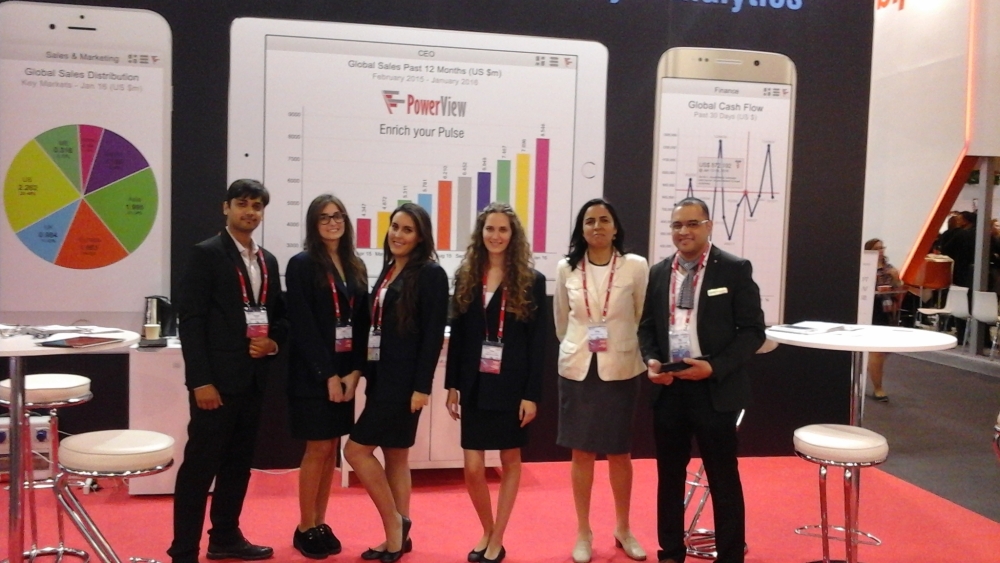 Digital Horizons Team had a Successful Mobile World Congress 2016 and Generated Leads and Learnt a Lot from the Experience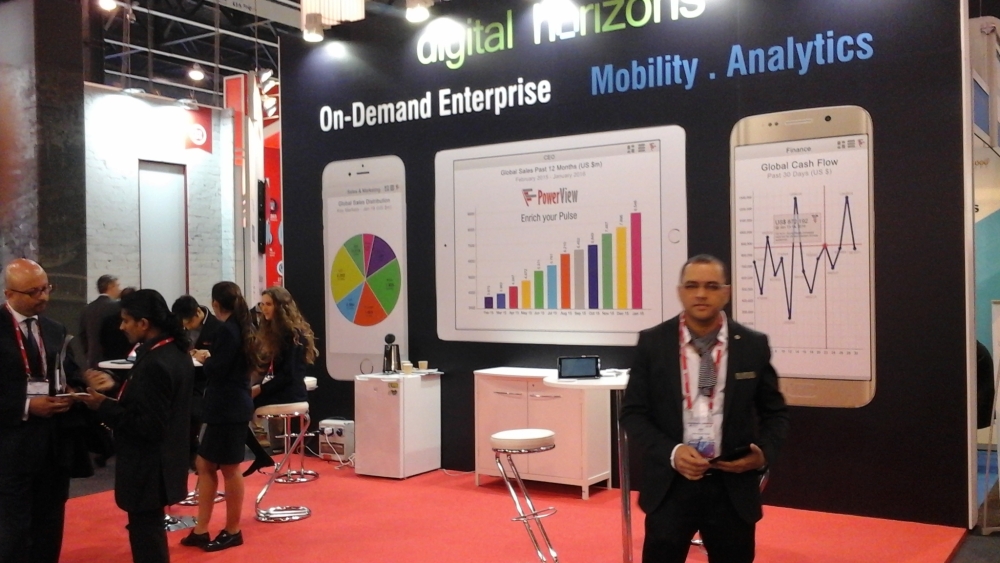 Ajay Soni who had been working with international companies for marketing and lead generation had a busy Mobile World Congress 2016 meeting in person with a continuous stream of visitors to the Digital Horizons Stand. Digital Horizons set up a trip to Paris so he could visit the city in which many of the clients he was interacting with were based.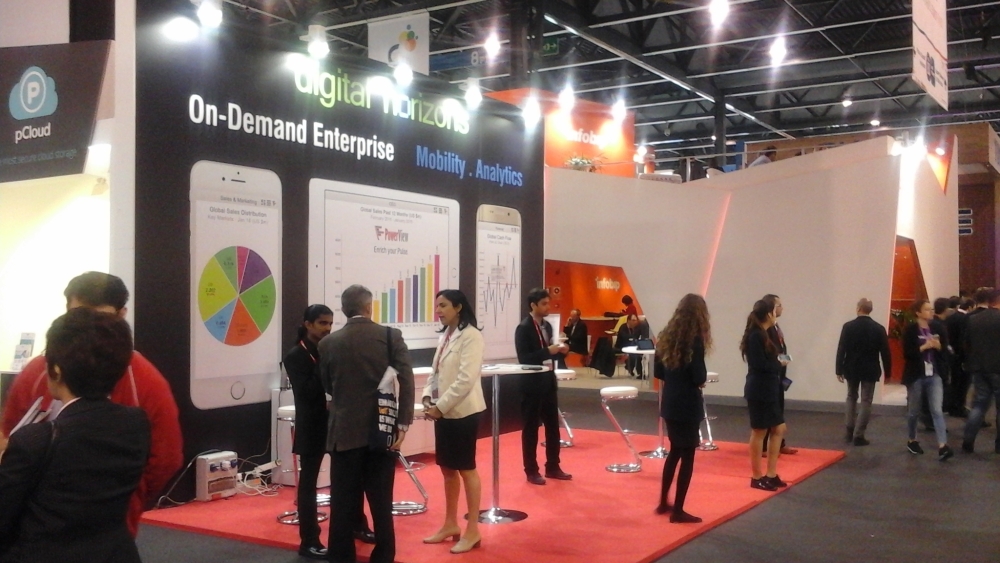 Girish BS explains Digital Horizons solutions to a senior company executive as Sushant Tiwari and Ajay Soni get a much needed break. Visits to Mobile World Congress 2016 as part of Digital Horizons Stand enables employees to meet with CEOs and senior Executives of MNCs and Global Leaders like Vodafone, Telefonica, Nestle, Airtel and BNP Paribas which are occasions to remember and treasure.